THE FOLLOWING ORGANISATIONS USE THE HALL ON A REGULAR BASIS
They would be pleased to welcome new members
Wednesday Club for the Over 50's Wednesday 1.30 p.m. – 4.00 p.m.
Contact Rita 01268 733621
ooOOoo
Shotgate Wives Social Group – 2nd Wednesday 8.00 p.m.
Contact Pat 01268 762088
ooOOoo
Shotgate Table Tennis Club – Thursday 9.00 p.m. – 10.00 p.m.
Contact Bradley 01268 449482 or 07960 326601
ooOOoo
Weight Watchers – Monday 5.30 p.m. – 6.30 p.m.
For more info Contact Suzanne Daniels  07813 893731
ooOOoo
Ladies Keep Fit – Monday 7.30 p.m. – 9.00 p.m. 
For more info Contact Jackie Burrell on 07443 624492
ooOOoo
Yoga – Thursday 7.00 p.m. – 8.50 p.m. 
For more info Contact Karen Bailey on 07766 557954
ooOOoo
Karate for Boys & Girls – Thursday 4.15 p.m. – 5.15 p.m. 
For more info Contact Barry on 07807 446178
ooOOoo
Zebedee Pre-school – every morning 9.15 – 12 noon
and 1.15 – 3.30 Tues, Thurs & Fri.
For more info Contact Carrie 01268 761267
ooOOoo
There is a vacancy for a regular monthly booking on a Wednesday evening, If there is a local organisation looking for a meeting place, contact Val Travis on 01268 767630 or email shotgate.ca@virgimedia.com
---
The Hall is Open for Private Bookings
If you would like to book the hall, contact me by email or phone, with the date you are interested in, and the times – start and finish –  along with contact details. I will let you know the hire charge and send you the booking forms.
Val Travis.
Hall Booking Secretary. 07950 917984. shotgate.ca@virginmedia.com
---
---
 60th Anniversary
On Saturday, November 10th 2018, we celebrated the 60th anniversary of the opening of SHOTGATE COMMUNITY HALL in 1958.
There was entertainment from Chris Cross, who performed music from the '50s & '60s for dancing.
We had a supper of pie mash & peas provided by Carters Caters for You, which everyone agreed was excellent.
A celebration cake, made by member Dawn Hannabuss, was cut by four ladies who were connected with the hall at the time of its opening, either raising funds to build it or attending events when it first opened.
The ladies are Marion White, Bridie Brooks, Beryl King and Barbara Carter.
---
MICK CARTER
We are sorry to announce the passing of Mick Carter after a long battle with cancer.
Mick was a long-serving member of the S.C.A. management committee and for a time served as chairman.
He was also an enthusiastic member of the social committee, and along with Mick Smeaton started the Shotgate Table Tennis Club.
His father was one of the original committee that raised the funds to build the hall, and then he was one of those that helped to build it.
The family has a long association with Shotgate Hall!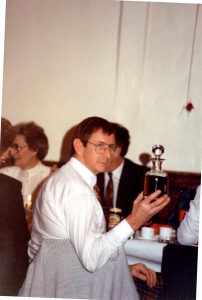 We send our deepest sympathy to Barbara and all the Carter family on their sad loss.