---
HALL REFURBISHMENTS
During August, we carried out some much-needed refurbishment to the hall.
The kitchen was completely rewired to keep it up to date with current regulations and two new electric range cookers installed.
At the same time, the hall floor was completely stripped and repolished to a very high standard.
Now we are ready for a busy year ahead, (Covid permitting).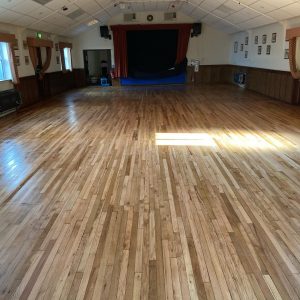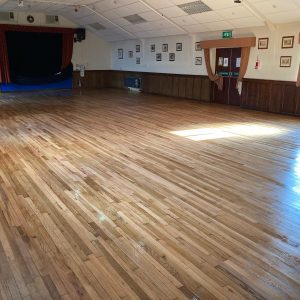 ---
---
---
THE FOLLOWING ORGANISATIONS ARE  RE-STARTING IN SEPTEMBER AND WOULD BE PLEASED TO SEE YOU. AS OTHER GROUPS RESTART, WE WILL PUBLICISE THE DETAILS.
Wednesday Club for the Over 50's Wednesday 1.30 p.m. – 4.00 p.m.
Contact Rita 01268 733621
ooOOoo
Shotgate Wives Social Group – 2nd Wednesday 8.00 p.m.
Contact Pat 01268 762088
ooOOoo
Shotgate Gardening Club – 3rd Wednesday 8.00 p.m.
Contact Carol 01268 571247
ooOOoo
Shotgate Table Tennis Club – Thursday 9.00 p.m. – 10.00 p.m.
Contact Bradley 01268 449482 or 07960 326601
ooOOoo
Weight Watchers – Monday 5.30 p.m. – 6.30 p.m.
For more info Contact Suzanne Daniels  07813 893731
ooOOoo
Ladies Keep Fit – Monday 7.30 p.m. – 9.00 p.m. 
For more info Contact Jackie Burrell on 07443 624492
ooOOoo
Yoga – Thursday 7.00 p.m. – 8.50 p.m. 
For more info Contact Karen Bailey on 07766 557954
ooOOoo
Karate for Boys & Girls – Thursday 4.15 p.m. – 5.15 p.m. 
For more info Contact Barry on 07807 446178
ooOOoo
Zebedee Pre-school – every morning 9.15 – 12 noon
and 1.15 – 3.30 Tues, Thurs & Fri.
For more info Contact Carrie 01268 761267
ooOOoo
---
The Hall is Now Open for Private Bookings
If you would like to book the hall, contact me by email or phone, with the date you are interested in, and the times – start and finish –  along with contact details. I will let you know the hire charge and send you the booking forms.
Val Travis.
Hall Booking Secretary. 07950 917984. shotgate.ca@virginmedia.com
---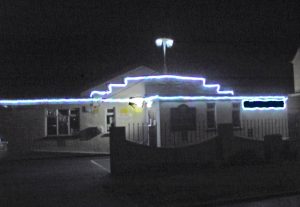 SHOTGATE WEDNESDAY CLUB
To all our members
Wishing you all a MERRY CHRISTMAS. 
We hope we can all get together again in the, not too distant future.
Stay Safe & we are thinking of you all.
Pam, Ron & Rita
*************************************
CHRISTMAS EVE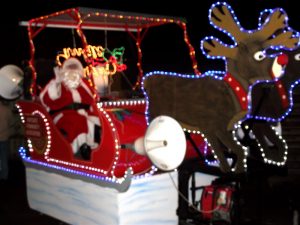 We're pleased to announce that Santa is keen to visit the children of Shotgate again on Christmas Eve.
So, Government restrictions permitting, Santa will be touring our streets again, to bring some joy to the people of Shotgate.
Of course given the current situation things will be a bit different this year so there are a few changes:- In the interests of ensuring Social Distancing, the sleigh will not be stopping for photo opportunities with Santa. We won't be handing out sweets this year.  We will be avoiding streets where parked vehicles reduce the flow of traffic, and we will be travelling using through routes in most cases. We are very keen to avoid causing crowds, so the route will be displayed here and then we are running a Sleigh Tracker app to show you where on the designated route Santa is at any point in time. Use this link on PC or download the app to your phone to see where Santa will be at any point in time.  Simply watch Santa on the tracker and then come out to wave when he comes past, that would be great.  If we are not coming past your door but are close by, use the tracker to determine when to see us on the route, but please don't cluster on street corners and do observe Social Distancing at all time. Please wear masks when you come out to see us.
PLEASE NOTE    If we witness clustering or crowding, including following the sleigh, as a result of Santa's presence we will have to abandon the visit, so depriving others of the joy of seeing Santa.
THE ROUTE
Starting from the hall into Bruce Grove – Fanton Walk – Fanton Chase – First Avenue –  Bruce Grove – Lucerne Walk – Longfield  Road – Bruce Grove – Second Avenue – Fanton Chase – Third Avenue – Bruce Grove – Fourth Avenue – Fifth Avenue – Sandown Road – Bridge Road – Southend Road, and back to the hall.
Unfortunately, this year we are unable to visit Alicia Avenue, due to manoeuvrability problems.
If you are coming to see Santa, PLEASE OBSERVE SOCIAL DISTANCING AND DO NOT FORM CROWDS
---
We are not collecting money, but you can donate to the charities that our friends at ROTARY CLUB of WICKFORD, (who loan us their trailer), support, online by following the link to their Givey page and make the donation there. Text BEARD to70460 to donate £3. Texts cost £3 plus one standard rate message and you'll be opting in to hear more about their work and fundraising via telephone ans SMS. if you'd like to give £3 but do not wish to receive marketing communications text BEARDNOINFO to 70460.
Check out the Sleightracker web site to find out where are and will be!
https://sleightracker.one-and-all.co.uk/IntroSleigh.aspx?ID=56
These plans are subject to the provisions of any Government restrictions which are in place at the time, and we may need to change our plans if circumstances require it.
---
A.G.M. Wednesday 28th October 2020
Due to present COVID-19 regulations, the Annual General Meeting of Shotgate Community Association will be a virtual meeting on ZOOM. Those wishing to attend should contact:-  Barbara Woolard on 01268 462574 for more information.
 COVID-19 update
      From Monday 7th September, the hall will be open to our regular hirers. Zebedee Pre-school will be back to its normal times.  Other groups returning are Ladies Keep Fit, Kings Dance Classes, Yoga and Table Tennis. The other groups are waiting to see when the restrictions are eased, as we are limited at the moment to 37 people, in total, in the hall.   Karate for boys and girls need more members. Until more children join, there is not a starting date. ( Contact Barry Coles on 07807 446178 for more information).    We are not opening for private hire at present because as well as the restriction on numbers, there are many other conditions that have to be observed to stay safe.    The Social Committee don't expect to be able to run any of their events until at least early in the New Year, except perhaps, Father Christmas touring the streets on Christmas Eve, but without the gathering in the hall beforehand.  
---
 60th Anniversary
On Saturday, November 10th 2018, we celebrated the 60th anniversary of the opening of SHOTGATE COMMUNITY HALL in 1958.
There was entertainment from Chris Cross, who performed music from the '50s & '60s for dancing.
We had a supper of pie mash & peas provided by Carters Caters for You, which everyone agreed was excellent.
A celebration cake, made by member Dawn Hannabuss, was cut by four ladies who were connected with the hall at the time of its opening, either raising funds to build it or attending events when it first opened.
The ladies are Marion White, Bridie Brooks, Beryl King and Barbara Carter.
---
MICK CARTER
We are sorry to announce the passing of Mick Carter after a long battle with cancer.
Mick was a long-serving member of the S.C.A. management committee and for a time served as chairman.
He was also an enthusiastic member of the social committee, and along with Mick Smeaton started the Shotgate Table Tennis Club.
His father was one of the original committee that raised the funds to build the hall, and then he was one of those that helped to build it.
The family has a long association with the Shotgate Hall!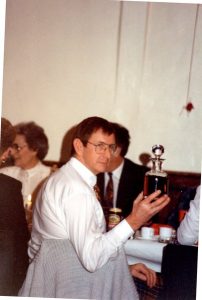 We send our deepest sympathy to Barbara and all the Carter family on their sad loss.