COVID-19 update
      From Monday 7th September, the hall will be open to our regular hirers. Zebedee Pre-school will be back to its normal times.  Other groups returning are Ladies Keep Fit, Kings Dance Classes, Yoga and Table Tennis. The other groups are waiting to see when the restrictions are eased, as we are limited at the moment to 37 people, in total, in the hall.   Karate for boys and girls need more members. Until more children join, there is not a starting date. ( Contact Barry Coles on 07807 446178 for more information).    We are not opening for private hire at present because as well as the restriction on numbers, there are many other conditions that have to be observed to stay safe.    The Social Committee don't expect to be able to run any of their events until at least early in the New Year, except perhaps, Father Christmas touring the streets on Christmas Eve, but without the gathering in the hall beforehand.  
---
 60th Anniversary
On Saturday, November 10th 2018, we celebrated the 60th anniversary of the opening of SHOTGATE COMMUNITY HALL in 1958.
There was entertainment from Chris Cross, who performed music from the '50s & '60s for dancing.
We had a supper of pie mash & peas provided by Carters Caters for You, which everyone agreed was excellent.
A celebration cake, made by member Dawn Hannabuss, was cut by four ladies who were connected with the hall at the time of its opening, either raising funds to build it or attending events when it first opened.
The ladies are Marion White, Bridie Brooks, Beryl King and Barbara Carter.
---
MICK CARTER
We are sorry to announce the passing of Mick Carter after a long battle with cancer.
Mick was a long-serving member of the S.C.A. management committee and for a time served as chairman.
He was also an enthusiastic member of the social committee, and along with Mick Smeaton started the Shotgate Table Tennis Club.
His father was one of the original committee that raised the funds to build the hall, and then he was one of those that helped to build it.
The family has a long association with the Shotgate Hall!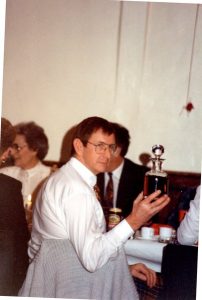 We send our deepest sympathy to Barbara and all the Carter family on their sad loss.