As COVID restrictions are gradually being lifted, it is hoped that the hall will be available again for PRIVATE HIRE after JUNE 21st
for
WEDDING RECEPTIONS – ENGAGEMENT PARTIES – ANNIVERSERIES – CLUB FUNCTIONS – CHILDREN'S PARTIES Etc.
(SORRY, STRICTLY NO TEENAGE PARTIES)
               For more information and availability phone 07950 917984
 email shotgate.ca@virginmedia.com
www.shotgate-org.uk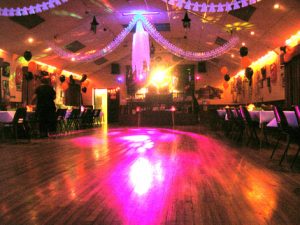 This popular Hall is available for hire on Friday evenings and all day Saturday until 11.30 p.m. Some Sundays are also available but the hall must be vacated 10.30 p.m. It is very well equipped and suitable for all occasions.  
      Weddings

      Engagements

      Parties (No teenage parties 12 – 21 yrs )

      Club functions etc.

      Children's parties up to, and including 11 yrs. of age.
The recently installed ceiling has several lighting options, including a sound-to-light system, something for any event. There is a room adjacent to the hall with a wine chiller that can be used as a bar. It has a serving hatch which opens into the hall to serve drinks to your guests.
As the hall is not licensed, alcohol cannot be sold.
Our recently refurbished kitchen has two professional type cookers, a large fridge and a microwave,  as well as a water heater for making tea & coffee, and ample work surfaces.
The toilets (including a disabled toilet with baby changing facilities) have also been totally refurbished to a very high standard. The use of the kitchen and all tables & chairs is included in the hiring fee, there are no hidden extras.
(Unfortunately, we are unable to hire out sound equipment, cutlery or crockery.)
---
Hire Charges
Hire charges for private functions are:-
Friday & Saturday evening – £170.00 for a  minimum of 6 hours 5.30 p.m. – 11.30 p.m. (the hall must be vacated by 11.30). Additional earlier time is available on Saturday and is charged at £12.50 per hour. 

All-day Saturday from  8.30 a.m. is  £282.50 

Sunday – £36 basic plus £17.50 per hr. ( but the hall must be vacated by 10.30)

Children's parties (up to 11 yrs.) Saturday & Sunday – £40 basic plus £17.50 per hr.

A returnable guarantee of £100 (£50 for children's parties) is required in case of damage to the hall or its fixtures and fittings.  

A 10% discount is offered to existing association members.
The hall must be vacated by 11.30 pm
We can take provisional bookings for 2021 in the hope that the restrictions are eased enough for the hall to be opened for private hire.                                                  
For further information, contact the Booking Secretary on 07950 917984 or e.mail: shotgate.ca@virginmedia.com
SHOTGATE COMMUNITY ASSOCIATION uses personal data for the purpose of managing hall bookings & its finances. We do not share any contact details with third party groups or organisations.