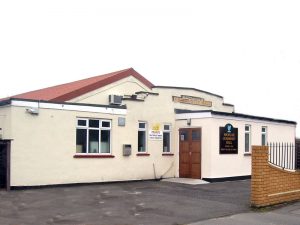 Shotgate Community Association is a registered charity that owns its own hall in Bruce Grove, Shotgate.
The hall was built by its members and in 2018 celebrated its 60th anniversary. It was funded entirely by subscriptions and donations.
Running costs are met by money raised from regular and private hiring, membership fees and donations. The hall is home to a variety of clubs and societies who hold regular weekly or monthly meetings, and a pre-school every morning & 3 afternoons a week.
The Social Section of the Association organises various events throughout the year and all the profits from these go towards making improvements to the hall.
Projects in recent years include a new ceiling and lighting system, new windows, a new roof, & the interior redecorated. The bar facility has been updated and the kitchen & toilets have been completely refurbished, as well as adding a disabled toilet with baby changing facilities.
These projects have been funded with the help of grants from the National Lottery, Cleanaway, Pitsea Marshes Trust, and Basildon District Council.
An additional grant from Basildon District Council helped with the building of a disabled toilet.
The latest projects have been to completely resurface the car park and to change all the lighting to L.E.D.
MEMBERSHIP
Membership of the Association is open to all residents of Shotgate, as well as those living outside the area who wish to join.
Life membership fees are:-
£1.50 for a family consisting of two adults and their children under 15.
£1.00 for individuals over 15.
60 p. for Senior Citizens.
For membership application contact the membership secretary – Marion Spelman on 01268 766571