The community spirit started in 1942 when the Allotment Holders and Gardeners Association was formed in response to governments Dig for Victory appeal.
Next came the Shotgate No. 1 branch O.A.P. Club, meeting at the Merly Club in Southend Road, which was opposite where Fred's (F.H. Ives) Timber Yard now is.
In the spring of 1947, the Women's Institute started meeting in the Baptist Church Hall.
From this, the Young Wives Group was formed (now Shotgate Wives). 
With these organisations operating, there was a need for a communal building. A committee was formed and set about raising funds. A weekly collection of sixpence – 6d  (2½)p from each house-hold, whist drives, fetes, and waste paper collections were some of the methods used.
Such was the success, that when a plot of land in Bruce Grove was to be auctioned in 1952, the Urban District  Council was asked to reserve it for us.
The land was purchased in 1955 for £325.00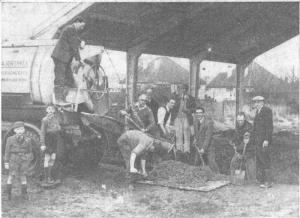 A building sub-committee was formed and after a great deal of hard work, the hall was opened, free of debt, on Saturday 8th November 1958, by Councillor Tanswell, Chairman of  Basildon Council.
Much of the material used in the building had a story, the wooden wall panelling was from a public house in the East End of London, the flooring from American pre-fabs – all the slats having to be assembled, sanded and polished. The doors came from Fred's Scrap Yard (as it was then).
The Association had raised the sum of £1,200 and with grants from the Ministry of Education, the total of £2,418 was reached, but the hall was worth a great deal more as the labour used to construct it was given free by local volunteers.
This hall is, to this day, free from debt. It operates on the money raised from hiring out the hall for private functions, membership fees and donations. It is not subsidised by the Borough Council or any other outside organisation.
From 'The Shotgate Story' by A.V. Geare